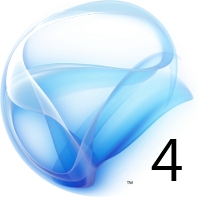 Well people, it was an amazing keynote. Silverlight 4 beta was just presented by Scott Guthrie at the Professional Developer Conference 2009 in Los Angeles. As soon as Silverlight 3 was released a few months ago, the Silverlight team started working on new features to create what will be a really exciting release.
As of now, the Silverlight 4 beta bits and all the necessary tools are available for download. Probably the best place to start is Tim Heuer (Silverlight evangelist for Microsoft) who has a guide to the new features on his blog. A great and very clear read!
Another fantastic resource is my friend Corrado Cavalli's PDF document with all the new features (there is also an Italian version on Corrado's blog).
Update: Just found out about the Silverlight 4 Training Course available on Channel 9, put together by Adam Kinney and John Papa, two Microsoft evangelists!
What happens with WPF?
Those of you who know me well know that I love WPF as much as Silverlight, and I am really super happy to work for IdentityMine, a firm that is very active in both environments.
Windows Presentation Foundation is not dead, not at all. With WPF4 (which is available in beta with Visual Studio 2010 beta 2), a load of new features is making it to the desktop as well. In the beginning of the year at MIX09, I had a talk about the .NET continuum, and we are exactly there, with Silverlight and WPF coming closer, but still having their respective features. WPF is more than ever Silverlight's big sister, they are closer than they have ever been, which is a blessing for us developers because passing from one world to the other has never been easier.
With Silverlight running out of the browser with elevated permissions, and with the possibility to modify the appearance of the window hosting the out-of-browser application, Silverlight is coming very close to a desktop application. But it is not one yet. So the question is, will we see a "merge" between Silverlight and WPF in the coming few years? Well to be frank, I am a very vocal proponent of the convergence, and I am pretty sure that we will go that way sooner or later. The good news is that all that Microsoft learned over the years while creating WPF is invested in Silverlight. In some areas, it has been made even better, because they learned from some mistakes. In others, they capitalized on the fantastic functionalities available in WPF and made that available to us without a change in Silverlight. My point is that talking about the death of WPF is a cow's opinion, it's a moo point. WPF and Silverlight will continue to grow ever closer, and we will continue to enjoy the best of both worlds, the desktop and the web! Exciting years to be a client developer indeed!
These are YOUR features
One thing the Silverlight does really well is listen to the community. I read somewhere that 70% of the features requested by the community have made it into Silverlight 4 beta. This is pretty amazing. So continue that work, place your requests either directly to Microsoft evangelists if you have the chance to know one, or through Silverlight MVPs who have possibilities to get to talk to the Silverlight team often.
And the story is not over yet… Keep your eyes open, we have amazing years in front of us!
Happy coding!!